Amazingly innovative techniques are used in medical tattooing to diminish, improve and disguise scarring from surgery, injury, trauma and illness. The most sought after treatment being Areola and nipple colour restoration following a mastectomy or breast surgery. Medical tattooing helps you to recover physically as well as psychologically by restoring your self esteem and self confidence.
Dry needling for scars and burn tissue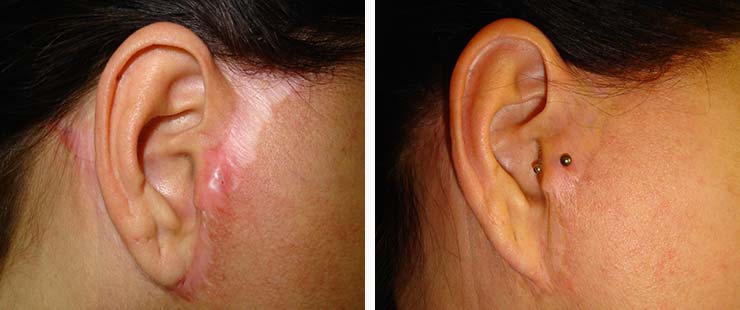 Whilst the majority of clients contact me regarding cosmetic lip, brow and eyeliner treatments, I also offer specialist treatment for scar tissue.
Using a technique called dry needling, or MCA (multi trepannic collagen actuation), the appearance and the feeling of scar tissue can be greatly improved. Dry needling, or MCA, causes the body to go into a state of natural self repair, bringing much needed blood supply back to the area, which stimulates cell regeneration. The fibroblasts are also stimulated, which increases Collagen production in the area. This results in tight or contracted scars being relaxed and softened and skin texture improved. Raised scars can be flattened, indented scars can smooth out and scar tissue becomes less shiny and less pink. In some cases dry needling can also help the scar to re-pigment by itself. Once skin is re-pigmented the colour is permanent and will tan and fade the same as the surrounding skin.
Dry needling had many benefits for the skin and can be used to treat all types of scarring, such as: surgical scars; burns scars; trauma scars; self harm scars and pitted acne scars. The only type of scar that cannot be treated is a keloid scar, and scars must be fully matured before treatment. Usually 6-8 treatments are needed, with 6-8 week gaps between treatments.
Click on the video to view a dry needling treatment for a scar.
Meso Vytal skin treatment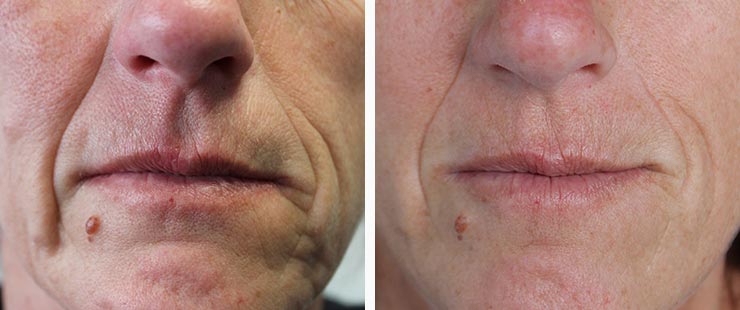 Meso Vytal is an innovative cell rejuvenation treatment and digital skin needling technique, which applies synthesized hyaluronic acid products into your skin through a contoured needle, which is attached to a hand piece similar in style to the one used in permanent make up.
Working in a similar way to dermal roller and skin needling type treatments ( which improves texture and aids the production of collagen ) Meso Vytal delivers anti-ageing substances directly into your skin through the gentle penetration of the needle.
In summary Meso Vytal is a gentle skin needling treatment that produces incredible results. Fine lines, wrinkles dehydration and sagging skin are all expertly targeted with this innovative treatment.
It is a relatively pain free treatment (the needles are plastic and are therefore less invasive than other skin needling techniques on the market), so it is perfect for clients who want minimal down time and visible results.
Single sessions can be done for a special occasions, but more noticeable and longer lasting results will start to become visible after two treatments.
For optimal results, a course of 6 treatments is advised.
Areas which can be treated are: Face; neck; décolleté & the back of hands
The entire concept of Meso Vytal was built around the idea of providing a tool to aid the natural process of skin renewal and rejuvenation, so if you're looking for an effective yet gentle treatment that you can rely on this all in one innovative solution.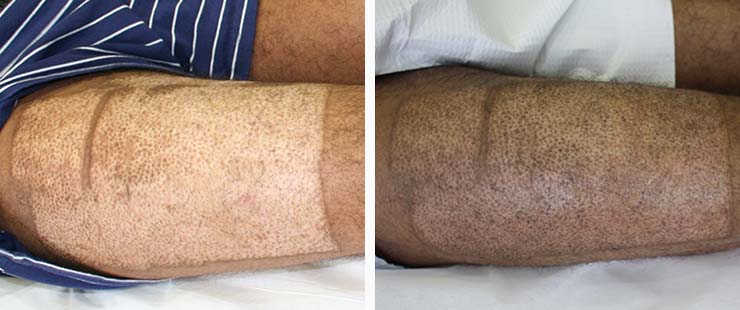 In some cases where dry needling treatment is not effective, such a skin grafts, carefully selected shades of pigment can be implanted to match the graft to the surrounding skin colour.
Make an appointment today to find out how medical tattooing can change the way you feel about you!
Areola and nipple colour restoration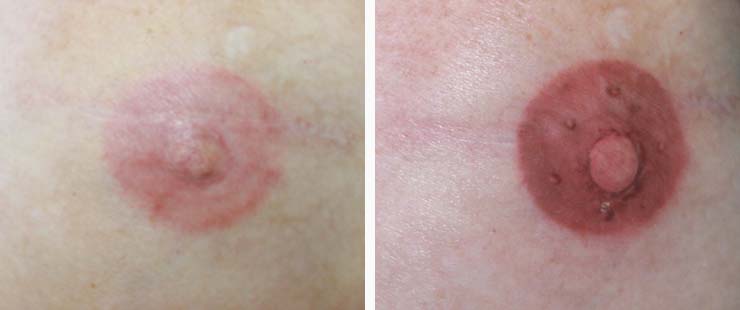 Many women today have undergone either a mastectomy, breast reduction, augmentation, reconstruction or uplift. Unfortunately these surgeries often leave behind unsightly and in some case dramatic scarring. An optical reconstruction of the areola and nipple tissue can be carried out following surgery once the breast has healed. Using carefully selected shades of pigment, the nipple and areola complex is realistically recreated with 3 dimensional shading.Prior to the treatment a thorough consultation is carried out to determine the best position, shape, colour and size. Dry needling is also used to reduce outlying scars on the surrounding breast tissue. If you naturally have pale areolas, then the pigments can also be used to darken or add a youthful flush of colour to the areola.
Permanent make up correction and Removal
Badly done permanent make up can cause significant psychological and emotional distress.There are a few methods of removal available on the market, but many often result in scarring.
Salt and Saline removal is possibly the most well know method and certainly the safest.
During treatment a salt and saline solution is tattooed into the target area, where they begin to gently draw the pigment particles out by reverse osmosis. This method requires 2-4 visits, spaced 6-8 weeks apart. This is a wonderful alternative to the more aggressive skin damaging removal methods. Often this method is used to lighten the permanent make-up enough to cover it with something more flattering.
Complete removal of the original procedure is however, unlikely. Results vary depending on the state of the skin in the area to be treated. If the original treatment has scarred or damaged the skin in ant way, this will lessen the chances successful removal. Also the depth of implantation of the original procedure will also effect the results.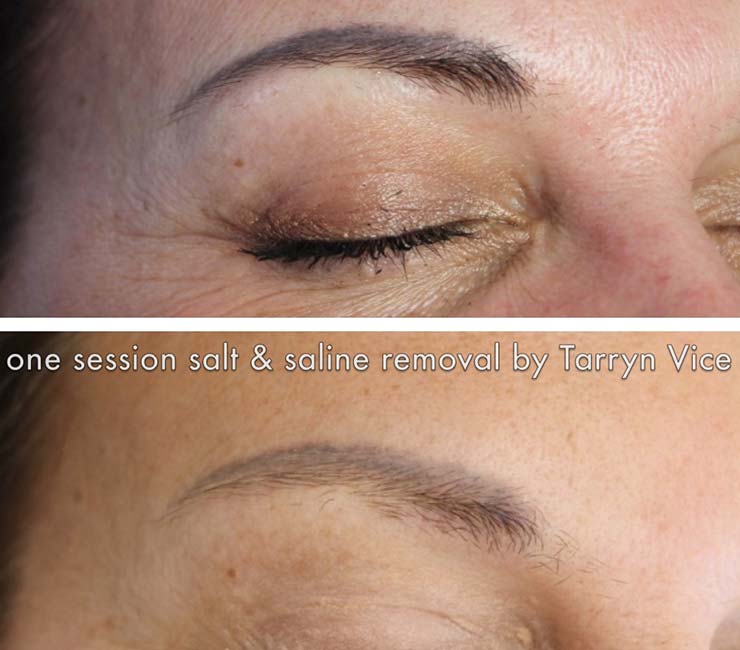 "Microblading wow! Fantastic I am so pleased I cannot believe I had not done this sooner. Perfect thank you so much they look so natural."
"The lovely Tarryn provides an excellent service – Perfectly natural looking eyebrows. Her expertise is reflected in her gentle and quick procedures."
"I couldn't be happier with my eyebrows. I am so glad I found Tarryn, I won't go to anyone else now. She is truly amazing at what she does."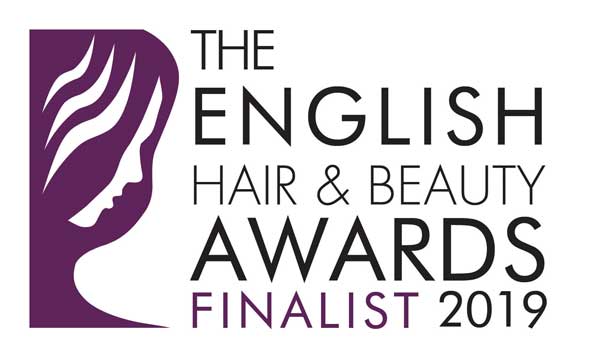 Micropigmentation UK 2018 Award Winner "Permanent Makeup Artist Of The Year" "Eyebrow Artist Of The Year" "Medical Micropigmentation"
Finalist The English Beauty Awards 2019 "Permanent makeup artist of the year"
Contact Tarryn